Cypress Texas Construction Services
Second Dimensions a full service construction company servicing Cypress, Texas. We are backed by a comprehensive and established reputation of great work. Our skilled team is well trained with over 25 years of experience in providing design, build, operation and outfitting construction services.
Headquartered in Houston, Texas, we specialize in residential and commercial construction projects throughout the United States. We service with a dedication to deliver exceptional customer service, while upholding the highest standards of ethics, quality and safety.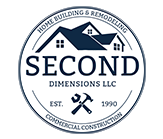 "Second Dimensions has a commitment to excellence. We strive to provide our residential and commercial clients with the best results possible."
–
Second Dimensions
Houston Construction Company
Let's Get Started On Your Project.
Get in touch with us, and let's talk about our Cypress, Texas construction services.
Residential Construction Services We Offer
Second Dimensions provides construction services to Cypress, Texas. In residential construction, attention to detail and quality are our only objective. Our clients depend on us to make their vision come true. As a leading residential construction company servicing Cypress, we have the knowledge, experience and relationships to deliver outstanding results.
Commercial Construction Services We Offer
Second Dimensions continues to establish ourselves as a commercial construction leader in Houston and Cypress. We understand that quality and value cannot be comprised by flexibility and speed. So we rely on our years of experience to maintain quality and value while being flexible and finishing projects on time. We offer out-of-the-ground services, renovation, new construction and interior fit-up services at all scales. Our experience in Cypress retail, commercial, and institutional projects surpasses all of our competitors.